Emerging Leaders in Biosecurity Fellowship
About the ELBI Fellowship
The Emerging Leaders in Biosecurity (ELBI) Fellowship inspires and connects the next generation of biosecurity leaders and innovators.
Launched in 2012, ELBI is a highly competitive, part-time program that provides an opportunity for talented graduate students and professionals to deepen their expertise, expand their network, and build their leadership skills through a series of events coordinated by the Johns Hopkins Center for Health Security.
The fellowship boasts almost 300 alumni with backgrounds in government, national security, private industry, science, law, public health, medicine, global health, journalism, the social sciences, and academia.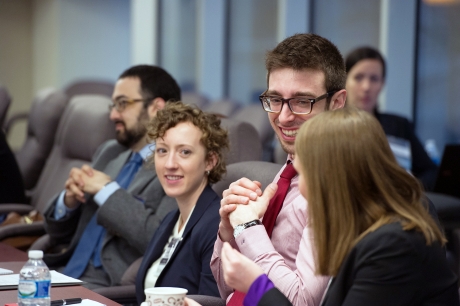 As an ELBI fellow, you will:
Learn about biosecurity history, policy, and practice
Identify career development opportunities in the biosecurity field
Network with senior biosecurity leaders
Connect with other talented graduate students and professionals working on important biosecurity initiatives
Develop and sharpen key professional skills to advance your career
Access resources and participate in events focused on the most current, relevant topics in biosecurity
 
Program overview
The part-time fellowship runs over a 10-month period and requires a minimal time commitment to accommodate fellows' busy work or academic schedules. There is no need for fellows to relocate.
Activities include:
A biosecurity workshop and networking event in the Washington, DC area
A biosecurity workshop and networking event in an international location
An ELBI research and practice symposium with ELBI alumni in the Washington, DC area
Additional networking events
The Johns Hopkins Center for Health Security covers travel expenses (air and ground), meals, and lodging for the 2 workshops and the symposium.

 
Application requirements
To be eligible to apply, prospective fellows must:
Have graduated from a masters or doctoral program, be currently enrolled in a doctoral program, OR have at least 3 years of professional experience in national security, public health, medicine, biotechnology, laboratory sciences, global health, or a related field
Prospective fellows must submit all required application materials by the date listed on the ELBI application page.
The ELBI program accepts about 28 to 30 fellows into each class.
 
Program Staff
Tom Inglesby, MD
Director
Anita Cicero, JD
Deputy Director

Amanda Kobokovich, MPH


Managing Senior Analyst & ELBI Program

Director

Benjamin Wakefield, MSc
Senior Analyst & ELBI Program

Deputy Director

Crystal Watson, DrPH, MPH
Senior Scholar
Lucia Mullen, MPH
Associate Scholar
Current Fellows
The Johns Hopkins Center for Health Security has accepted 31 professionals and scholars into its Emerging Leaders in Biosecurity Initiative (ELBI) fellowship program for 2023. The 2023 ELBI Fellows are:
Oluwatosin Akande, World Health Organization
Rahul Arora,

University of Calgary

Fatima Aziz, Aga Khan University
Bill Beaver, US Office of the Undersecretary of Defense for Policy
Gemma Bowsher, King's College London
Will Bradshaw, Massachusetts Institute of Technology
Bangin Brim, European Commission Health Emergency and Response Authority (HERA)
Nathan Calvin, US Senate, Office of Senator Alex Padilla
Maggie Davis, Association of State and Territorial Health Officials (ASTHO)
Jasmine Dhaliwal, North Atlantic Treaty Organization (NATO)
Mariam Elgabry, Bronic
Matthew Ferreira, George Mason University Schar School of Policy and Government
Anjali Gopal, Massachusetts Institute of Technology
Stephanie Guerra, White House Office of Science and Technology Policy
Suryateja Jammalamadaka, Massachusetts Institute of Technology
Nils Justen, United Nations Office of Disarmament Affairs
Sarah Koeller, Chester County Health Department
Natalie Linton, California Department of Public Health
Geoffrey Namara, World Health Organization Hub for Pandemic and Epidemic Intelligence
Judith Okolo, Nigeria National Biotechnology Development Agency
Scott Olesen, Biobot
Edyth Parker, Scripps Research
Sophie Rose, Council on Strategic Risks
Pingdewinde Sam, Boston Consulting Group
João Simões, European Union Agency for Law Enforcement Cooperation (EUROPOL)
Michaela Simoneau, Center for Strategic and International Studies (CSIS)
Aleksandar Stoller, Tulane University
Joel Straus, Biotechnology Innovation Organization (BIO)
Nikki Teran, Guarding Against Pandemics
Kim Trollope, Stellensbosch University
Katarina Watney, US Health and Human Services Administration for Strategic Preparedness and Response (ASPR)
Alumni
The Johns Hopkins Center for Health Security accepts a diverse group of professionals and scholars into each class of the Emerging Leaders in Biosecurity Fellowship (ELBI) program.
Class of 2022

Janvi Ahuja, Future of Humanity Institute
Patricia Akinfenwa, Twist Bioscience
Tessa Alexanian, iGEM Foundation
Mayra Ameneiros, King's College London
Anna Bezruki, Georgetown University
Rihana Diabo, Coalition for Epidemic Preparedness Innovations (CEPI)
Ryan Duncombe, Alvea
Lennox Kesington Ebbarnezh, Makarere University
Richard Egan, Johns Hopkins Applied Physics Laboratory
Daniel Greene, Stanford University
Hannah Herzig, European Commission
Christopher Hoover, California Department of Public Health
Melissa Hopkins, U.S. House of Representatives
Heather Kromer, Office of the Director of National Intelligence (ODNI)
Georgia Lagoudas, White House Office of Science and Technology Policy
Kumiko Lippold, Biomedical Advanced Research and Development Authority (BARDA)
Niall McGlynn, Irish Public Service
Opeayo Ogundiran, World Health Organization
Jassi Pannu, Stanford University
James Petrie, University of Waterloo
Benjamin Rader, Boston Children's Hospital
Jonas Sandbrink, Future of Humanity Institute
Emma Saunders, Chatham House
Noor Shakfeh, United Nations Foundation
Shalini Singaravelu, National Academies of Sciences, Engineering, and Medicine
Vivian Smith, Battelle Memorial Institute
Kathleen Stevens, U.S. Department of State
Cindy Vindman, U.S. Army DEVCOM, Army Research Lab
Josh Wentzel, U.S. Senate Health, Education, Labor & Pensions Committee
Chenny Zhang, In-Q-Tel
Class of 2021

Peter Ababwe Babigumira, Infectious Diseases Institute, Makerere University
Christopher Bakerlee, Harvard University
Sara Bazaco, Armed Forces Health Surveillance Branch
JJ Ben-Joseph, In-Q-Tel
Isha Berry, University of Toronto
Kelly Chafin, National Security Council
Neil Cherian, Coalition for Epidemic Preparedness Innovations (CEPI)
Jennifer Garland, Cedars-Sinai Medical Center
Daniel Gastfriend, Office of Management and Budget
Nicholas Generous, US House of Representatives, Committee on Homeland Security
Hugh Green, Centers for Disease Control and Prevention
Gavin Harris, University of Pittsburgh Medical Center
Krutika Kuppalli, Stanford Health Care
Allen Lin, Ragon Institute, Harvard University
Andrew Liu, Harvard Medical School
Danielle Lohman, Department of State
T. Greg McKelvey, ASAPP
Cassidy Nelson, Future of Humanity Institute, University of Oxford
Martha Ngoh, Association of State and Territorial Health Officials (ASTHO)
Resham Patel, Public Health – Seattle and King County
Giovanna Pontes, Organisation for Prohibition of Chemical Weapons (OPCW)
Harsha Rajashekharaiah, Center for Humanitarian Health, Johns Hopkins Bloomberg School of Public Health
Michelle Rourke, Griffith University Law School
Sterling Sawaya, GeneInfoSec
Sonya Stokes, Mount Sinai Icahn School of Medicine
Allison Totura, US Army Medical Research Institute of Infectious Diseases (USAMRIID)
Edward van Opstal, Department of Defense Human Systems Directorate
Benjamin Wakefield, Centre on Global Health Security, Chatham House
Kate Whittemore, Resolve to Save Lives
Nathalie Zeitouni, National Biodefense Analysis and Countermeasures Center (NBACC); Battelle National Biodefense Institute
Class of 2019

Emmanuel Agogo, Nigeria Centre for Disease Control
Oluwayemisi Ajumobi, The World Bank
Ethan Alley, Center for Effective Altruism & George Church Lab at Harvard Medical School
Frances Butcher, Oxford School of Public Health
Angel Desai, Massachusetts General Hospital
Mark Eccleston-Turner, University of Keele
Claire Marie Filone, Johns Hopkins Applied Physics Laboratory
Hayden Huang, Government Accountability Office
Justin Hurt, Federal Bureau of Investigation
Salah Issa, USDA National Institute of Food and Agriculture
Christine Jones, Johns Hopkins Bloomberg School of Public Health
Rebecca Kahn, Harvard Center for Communicable Disease Dynamics
Seth Kroop, Centers for Disease Control and Prevention
Aditya Kunjapur, University of Delaware
Anastasia Lambrou, Johns Hopkins Bloomberg School of Public Health
Greg Lewis, Future of Humanity Institute
Karen Martins, USAMRIID
Robert Mayall, University of Calgary, FREDsense Technologies
Cody Minks, SSM Health
Michelle Murti, Public Health Ontario
Michael Parker, McDaniel College
Shanna Ratnesar-Shumate, National Threat Characterization Center (NBACC)
Brian Renda, Ginkgo Bioworks
Emily Ricotta, National Institute of Allergy and Infectious Diseases
Emily Rosenblum, Department of Energy
Joseph Simmond-Issler, Coalition for Epidemic Preparedness Innovations (CEPI)
Jacob Swett, University of Oxford
Christine Tomlinson, Applied Research Associates
Benjamin Trump, Engineer Research and Development Center - U.S. Army
Robert Tuttle, Defense Threat Reduction Agency
Class of 2018

Warren Acuncius, US Agency for International Development
Evan Appleton, Harvard Medical School
Hattie Chung, Harvard University & The Broad Institute
Lina Faller, Ginkgo Bioworks
Michelle Holko, Booz Allen Hamilton
Gabriel Innes, Johns Hopkins Bloomberg School of Public Health
Christopher Isaac, University of Lethbridge
Kirsten Kulcsar, University of Maryland School of Medicine
Joseph Lewnard, Harvard TH Chan School of Public Health
Yong-Bee Lim, George Mason University
Natalie Ma, Clearview Healthcare Partners
Lucia Mullen, World Health Organization
Tiffany Nguyen, US Army Medical Research Institute of Infectious Diseases
Lauren Oldfield, J. Craig Venter Institute
Keith Pardee, University of Toronto
Jenish Patel, National Institute of Allergy and Infectious Diseases, NIH
Edward Perello, Desktop Genetics
Aaron Resnick, Northwest Healthcare Response Network
Michelle Rozo, AAAS Congressional Fellow
Lauren Sauer, Johns Hopkins University
Jordan Schermerhorn, Pratt Pouch Consulting & Elizabeth Glaser Pediatric AIDS Foundation
Andrew Snyder-Beattie, University of Oxford
Carl Soffler, US Army Medical Materiel Development Activity
Gregory Sunshine, Centers for Disease Control and Prevention
Alexander Titus, Dartmouth College
Neil Vora, Centers for Disease Control and Prevention and NYC Department of Health and Mental Hygiene
Matt Walsh, MIT Lincoln Laboratory
Benjamin Winer, Princeton University
Class of 2017

Martin Adams, GSS Health
Aurora Amoah, Independent Consultant, The World Bank Group
Brandy Burgess, University of Georgia
Marija Cemma, Canadian Food Inspection Agency
Christopher Chadwick, US Department of Health and Human Services
Jessica Dymond, Johns Hopkins University, Applied Physics Laboratory
Ngozi Erondu, London School of Hygiene and Tropical Medicine
Stuart Evenhaugen, US Department of Homeland Security
Mary Margaret Fill, Centers for Disease Control and Prevention
Jeffrey Fortman, Analytical Services, Inc
Jeffrey Freeman, Johns Hopkins University, Applied Physics Laboratory
Andrew Herr, Georgetown University
Alison Hill, Harvard University
Adrienne Keen, US Department of State
Daniel Leifer, Lurie Children's Hospital/McGaw Center of Northwestern University
Brandon Lloyd Dean, Los Angeles County Public Health Department
Emily Lord, Healthcare Ready
Syra Madad, NYC Health and Hospitals Corporation
Matthew Moe, US Department of Homeland Security
Patricia Pacheco Hernandez, Sandia National Laboratories
Justin Pahara, Amino Labs Inc/Synbiota Inc
James Phillips, George Washington University Hospital
Saskia Popescu, George Mason University
Betsey Pugel, NASA
John Scarbeck, Federal Bureau of Investigation
Carolyn Shore, National Academies of Sciences, Engineering, and Medicine
Sapana Vora, US Department of State
Simon Weller, UK Ministry of Defence