Tabletop Exercise
Event 201
This training tabletop exercise is based on a fictional scenario. The inputs experts used for modeling the potential impact were fictional. It is a teaching and training resource for public health and government officials.
The Johns Hopkins Center for Health Security in partnership with the World Economic Forum and the Bill and Melinda Gates Foundation hosted Event 201, a high-level pandemic exercise on October 18, 2019, in New York, NY. The exercise illustrated areas where public/private partnerships will be necessary during the response to a severe pandemic in order to diminish large-scale economic and societal consequences.
Statement about nCoV and our pandemic exercise
In recent years, the world has seen a growing number of epidemic events, amounting to approximately 200 events annually. These events are increasing, and they are disruptive to health, economies, and society. Managing these events already strains global capacity, even absent a pandemic threat. Experts agree that it is only a matter of time before one of these epidemics becomes global—a pandemic with potentially catastrophic consequences. A severe pandemic, which becomes "Event 201," would require reliable cooperation among several industries, national governments, and key international institutions.
About the Event 201 exercise
Event 201 was a 3.5-hour pandemic tabletop exercise that simulated a series of dramatic, scenario-based facilitated discussions, confronting difficult, true-to-life dilemmas associated with response to a hypothetical, but scientifically plausible, pandemic. 15 global business, government, and public health leaders were players in the simulation exercise that highlighted unresolved real-world policy and economic issues that could be solved with sufficient political will, financial investment, and attention now and in the future.
The exercise consisted of pre-recorded news broadcasts, live "staff" briefings, and moderated discussions on specific topics. These issues were carefully designed in a compelling narrative that educated the participants and the audience.
The Johns Hopkins Center for Health Security, World Economic Forum, and Bill & Melinda Gates Foundation jointly propose these recommendations.
Purpose
In recent years, the world has seen a growing number of epidemic events, amounting to approximately 200 events annually. These events are increasing, and they are disruptive to health, economies, and society. Managing these events already strains global capacity, even absent a pandemic threat. Experts agree that it is only a matter of time before one of these epidemics becomes global—a pandemic with potentially catastrophic consequences. A severe pandemic, which becomes "Event 201," would require reliable cooperation among several industries, national governments, and key international institutions.
Recent economic studies show that pandemics will be the cause of an average annual economic loss of 0.7% of global GDP—or $570 billion. The players' responses to the scenario illuminated the need for cooperation among industry, national governments, key international institutions, and civil society, to avoid the catastrophic consequences that could arise from a large-scale pandemic.
Similar to the Center's 3 previous exercises—Clade X, Dark Winter, and Atlantic Storm—Event 201 aimed to educate senior leaders at the highest level of US and international governments and leaders in global industries.
It is also a tool to inform members of the policy and preparedness communities and the general public. This is distinct from many other forms of simulation exercises that test protocols or technical policies of a specific organization. Exercises similar to Event 201 are a particularly effective way to help policymakers gain a fuller understanding of the urgent challenges they could face in a dynamic, real-world crisis.
Scenario
Details about the scenario are available here.
Recommendations
The next severe pandemic will not only cause great illness and loss of life but could also trigger major cascading economic and societal consequences that could contribute greatly to global impact and suffering. The Event 201 pandemic exercise, conducted on October 18, 2019, vividly demonstrated a number of these important gaps in pandemic preparedness as well as some of the elements of the solutions between the public and private sectors that will be needed to fill them. The Johns Hopkins Center for Health Security, World Economic Forum, and Bill & Melinda Gates Foundation jointly propose these recommendations.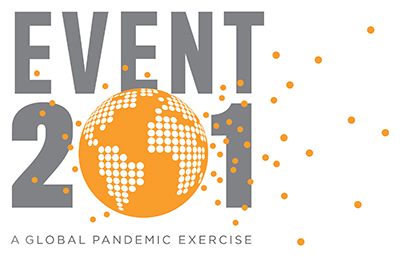 When/where
Friday, October 18, 2019
8:45 a.m. – 12:30 p.m.
The Pierre hotel
New York, NY
Audience
An invitation-only audience of nearly 130 people attended the exercises, and a livestream of the event was available to everyone. Video coverage is available here.
Exercise team
Eric Toner, MD, is the exercise team lead from the Johns Hopkins Center for Health Security. Crystal Watson, DrPH, MPH and Tara Kirk Sell, PhD, MA are co-leads from the Johns Hopkins Center for Health Security. Ryan Morhard, JD, is the exercise lead from the World Economic Forum, and Jeffrey French is the exercise lead for the Bill and Melinda Gates Foundation.
Exercise team members are Tom Inglesby, MD; Anita Cicero, JD; Randy Larsen, USAF (retired); Caitlin Rivers, PhD, MPH; Diane Meyer, RN, MPH; Matthew Shearer, MPH; Matthew Watson; Richard Bruns, PhD; Jackie Fox; Andrea Lapp; Margaret Miller; Carol Miller; and Julia Cizek.
Event 201 was supported by funding from the Open Philanthropy Project.
Players
The following prominent individuals from global business, government, and public health were exercise players tasked with leading the policy response to a fictional outbreak scenario in the Event 201 pandemic tabletop exercise:
Latoya D. Abbott

Latoya D. Abbott is the Senior Director of Global Occupational Health Services for Marriott International. She has over 20 years of experience as a nurse practitioner, educator, and senior leader. She has worked in a multitude of settings both as a nurse practitioner and as an administrator, including occupational health clinics, long-term care facilities, and critical care units. She has taught as an Associate Professor of Nursing for graduate-level students at Howard University, where she was nominated for the Professor of the Year award, and she has precepted nurse practitioner students from Marymount University and South University. Most recently, Dr. Abbott served as an advisor to students pursuing their doctorates of nursing practice at Capella University.

Prior to joining Marriott International, Dr. Abbott was the Director of the Occupational Health and Wellness Institute at Providence Hospital in Washington, DC, where she managed an occupational health clinic while treating patients, promoting wellness, and overseeing workers' compensation cases. In this role, Dr. Abbott created and implemented a streamlined process to vaccinate hospital employees against the flu. Her innovative flu clinic led to a threefold increase in influenza vaccination rates among hospital workers.

In her current role, Dr. Abbott manages nurse case managers, utilization review nurse managers, and on-property nurses around the country, working closely with the claims team to advise on workers' compensation issues. Dr. Abbott assists with business case analysis and establishing or recredentialing on-site hotel clinics around the world. She advises hotel properties on the handling of infectious disease outbreaks and has recently created and implemented standard operating procedures to streamline communications surrounding legionella outbreaks and to expedite remediation. In addition to these responsibilities, Dr. Abbott serves as the occupational health representative on the crisis team, advising on crises including natural disasters, infectious disease outbreaks, and violence or terrorist activity.

Dr. Abbott holds a BS degree in nursing and a BA in psychology from Winston-Salem State University, a masters of science in nursing and adult nurse practitioner certification from the University of North Carolina, and a doctorate in nursing practice from the Catholic University of America, where she was awarded the Dean's Award of Excellence.
Sofia Borges

Sofia Borges is the UN Foundation's Senior Vice President and Head of the New York office. In this role, she serves as chief liaison with United Nations leadership and the diplomatic community, working to identify new opportunities for building and deepening partnerships with a range of stakeholders, as well as overseeing initiatives with the private sector and managing engagement with other organizations. As a member of the UN Foundation leadership team, she also provides overall guidance and participates in the development of long-term strategy for the Foundation. Prior to joining the UN Foundation, Ms. Borges held the position of Deputy Chef de Cabinet to the President of the 72nd Session of the UN General Assembly and served in the Cabinet of the President of the 71st Session of the UN General Assembly as Special Adviser on Strategic Engagement and Transparency.

From 2002 to 2016, Ms. Borges held various positions at the Permanent Mission of Timor-Leste to the UN, including six years as Ambassador and Permanent Representative. She represented Timor-Leste through a critical peacekeeping to peacebuilding period, including its removal from the agenda of the UN Security Council. During this time, she also served as Chair of the Third Committee (Social, Humanitarian, and Cultural Committee) for the 69th session of the UN General Assembly and as a Vice President of the 68th Session of the UN General Assembly. She was the Chief Negotiator for Timor-Leste during the Open Working Group on the Sustainable Development Goals (2013-14) and Chief Negotiator for Timor-Leste on the Post-2015 Inter-Governmental Negotiations on the SDGs (2014-15). She was also Chair of the Community of Portuguese Speaking Countries (2014-2016) and Chair of the G7+ (2010-2014), a role which was critical in the negotiations on the 2030 Agenda. Additionally, Ms. Borges has served as a member of the Advisory Board for the UN Democracy Fund (2012-13) and as a member of the Executive Board of UN Women (2012-13). Prior to joining the foreign ministry, Ms. Borges worked both as an anthropologist at the Central Land Council in Australia, engaging with indigenous land owners in Central Australia on lands rights claims, and at the Asian Development Bank on issues surrounding post-conflict reconstruction in Timor-Leste.

Ms. Borges holds degrees in anthropology, political science, and law from the Australian National University, Canberra, and Northern Territory University, Darwin. She speaks Tetum, English, and Portuguese.
Brad Connett

Mr. Connett joined Henry Schein, Inc. in 1997, and currently serves as President of Henry Schein's U.S. Medical Group, one of the nation's leading providers of products and services to physician offices, urgent care clinics, retail clinics, freestanding emergency rooms, Integrated Delivery Networks, Ambulatory Surgery Centers, and other alternate care sites. He is a Member of the Company's Executive Management Committee.

Mr. Connett is responsible for leading the medical group's strategic direction, management, and business performance, including sales, marketing, operations, business development, and technology solutions. Before assuming this role in May of 2018, Mr. Connett held a number of increasingly responsible positions at the Company. Throughout his career, he has received numerous industry honors, including the John F. Sasen Leadership Award from the Health Industry Distributors Association, in recognition of his service to the industry, and induction into the Medical Distribution Hall of Fame by Repertoire Magazine.

Mr. Connett earned his Bachelor of Administration in Economics and Psychology from the University of North Carolina at Chapel Hill.
Chris Elias

Dr. Chris Elias is President of the Global Development Program, Bill & Melinda Gates Foundation. He leads the foundation's efforts to accelerate the delivery of proven healthcare products and solutions to those who need them most—especially women and children. Focusing on appropriate and sustainable strategies with the potential to improve the health of hundreds of millions of people in underserved communities, the Global Development program focuses on 5 program areas: family planning; maternal, newborn, and child health; nutrition; polio; and vaccine delivery.

Dr. Elias most recently served as the president and CEO of PATH, an international, nonprofit organization dedicated to improving the health of people around the world through developing innovative health technologies, strengthening healthcare systems, and encouraging healthy behaviors.

He serves on various advisory boards, including the Creigton University Board of Trustees; the Advisory Committee to the Director, CDC; and the University of Washington Global Health External Advisory Board. He also represents the Gates Foundation as the chair of the Polio Oversight Board of the Global Polio Eradication Initiative, the chair of the Investors Group of the Global Financing Facility, and co-chair of the FP2020 Reference Group.

Dr. Elias holds an MD from Creighton University, having completed postgraduate training in internal medicine at the University of California San Francisco, and an MPH from the University of Washington. He was a fellow in the Robert Wood Johnson Clinical Scholars Program and was awarded an honorary doctor of science degree from Creighton University.
Timothy Grant Evans

Timothy Evans joined McGill University in September 2019 as the Inaugural Director and Associate Dean of the School of Population and Global Health (SPGH) in the Faculty of Medicine and Associate Vice-Principal (Global Policy and Innovation). He joined McGill after a 6-year tenure as the Senior Director of the Health, Nutrition and Population Global Practice at the World Bank Group.

From 2010 to 2013, Dr. Evans was Dean of the James P. Grant School of Public Health at BRAC University in Dhaka, Bangladesh, and Senior Advisor to the BRAC Health Program. From 2003 to 2010, he was Assistant Director General at the World Health Organization (WHO). Prior to this, he served as Director of the Health Equity Theme at the Rockefeller Foundation. Earlier in his career he was an attending physician of internal medicine at Brigham and Women's Hospital in Boston and was an Assistant Professor in International Health Economics at the Harvard School of Public Health. 

Dr. Evans has been at the forefront of advancing global health equity and strengthening health systems delivery for more than 20 years. At WHO, he led the Commission on Social Determinants of Health and oversaw the production of the annual World Health Report. He has been a co-founder of many partnerships, including the Global Alliance on Vaccines and Immunization (GAVI), as well as efforts to increase access to HIV treatment for mothers and innovative approaches to training community-based midwives in Bangladesh.

Dr. Evans received his medical degree from McMaster University in Canada and was a Research and Internal Medicine Resident at Brigham and Women's Hospital. He earned a DPhil in Agricultural Economics from the University of Oxford, where he was a Rhodes Scholar.
George Fu Gao

Professor George F. Gao is the Director-General, Chinese Center for Disease Control and Prevention; a Professor in the Institute of Microbiology, Chinese Academy of Sciences; President of the Chinese Society of Biotechnology; and President of the Asian Federation of Biotechnology (AFOB).

Dr. Gao obtained his DPhil degree from Oxford University, UK, and did his postdoc work in both Oxford University and Harvard University, with a brief stay in Calgary University. His research interests include enveloped viruses and molecular immunology. His group research is mainly focused on the enveloped virus entry and release, especially influenza virus interspecies transmission (host jump), structure-based drug-design, and structural immunology. He is also interested in virus ecology, especially the relationship between influenza virus and migratory birds or live poultry markets and the bat-derived virus ecology and molecular biology.

Dr. Gao has published more than 450 refereed papers and 10 books or book chapters, and he has applied for and obtained more than 25 UK, US, and Chinese patents. His research has recently expanded to public health policy and global health strategy. He led the China CDC team from September to November 2014 to work in Sierra Leone in the fight against Ebola.

Dr. Gao is a member (academician) of the Chinese Academy of Sciences, a fellow of the Third World Academy of Sciences (also known as the World Academy of Sciences), a fellow of the American Academy of Microbiology, and an associate member of EMBO. He is a recipient of several national and international awards, including the TWAS Medical Prize (2012), the Nikkei Asian Prize (2014), and the HLHL S&T Advancement Award (2015).
Avril Haines

Avril Haines is a Senior Research Scholar at Columbia University; a Senior Fellow at the Johns Hopkins University Applied Physics Laboratory; a member of the National Commission on Military, National, and Public Service; and a principal at WestExec Advisors.

During the last administration, Dr. Haines served as Assistant to the President and Principal Deputy National Security Advisor. She also served as the Deputy Director of the Central Intelligence Agency and Legal Adviser to the National Security Council.

Dr. Haines received her bachelor's degree in physics from the University of Chicago and a law degree from Georgetown University Law Center. She serves on a number of boards and advisory groups, including the Nuclear Threat Initiative's Bio Advisory Group, the Board of Trustees for the Vodafone Foundation, and the Refugees International Advisory Council.
Jane Halton

Jane Halton, AO, PSM, FAICD, FIPPA, is a member of the board of the ANZ Bank, Clayton Utz, the Australian Strategic Policy Institute, and the US Institute of Health Metrics and Evaluation. She is chairman of the Coalition for Epidemic Preparedness Innovations, COTA, and Vault Systems. Her 33-year career in the Australian public service included nearly 15 years as Secretary of the Department of Finance and Secretary of the Department of Health and Ageing.

Previously, she was Executive Co-ordinator (Deputy Secretary) of the Department of the Prime Minister and Cabinet. She has extensive experience in health policy and delivery, the delivery of the Australian government budget, and the management and performance of Australian government agencies.

Ms. Halton has held a number of significant roles in global health governance, including as chair of the board of the World Health Organization (WHO), president of the World Health Assembly, and chair of the Organisation for Economic Co-operation and Development (OECD) health committee.
Matthew J. Harrington

Matthew Harrington is the global chief operating officer at Edelman, an industry-leading communications firm that partners with businesses and organizations to evolve, promote, and protect their brands and reputations. In concert with his overseeing global operations, Mr. Harrington advises leaders of some of the world's largest and most complex companies on corporate positioning, reputation management, crisis communications, merger and acquisition, and IPOs. His articles on trust and executive leadership have appeared in the Harvard Business Review, Fortune, and other leading business publications.

Mr. Harrington's nearly 30-year career at Edelman has encompassed work for hundreds of clients across nearly every industry sector. His previous leadership roles at Edelman include president of the US and president of the Eastern and Western regions. He also led the initiative to create Edelman's code of conduct.

A graduate of Denison University, Mr. Harrington serves on its board of trustees, as well as on the boards of the Interactive Advertising Bureau (IAB) and the Classic Stage Company, and he is a member of the Board of Advisors of the University of Southern California's Annenberg School of Communications. He also is an advisory member of the Marketing 50.
Martin Knuchel

Martin Knuchel is Senior Director and Head of Crisis, Emergency & Business Continuity Management, for Lufthansa Group Airlines. He is responsible for strategic development of crisis and emergency procedures, emergency field organization and care organization procedures for the Lufthansa Group. His responsibilities entail planning and coordinating the interface work with communication, ground operations, security, safety and training, as well as planning and executing emergency exercises for the group's crisis teams. He also serves as the pandemic coordinator for the airline. He has been with Swiss International Air Lines since 2002, serving in positions of increasing responsibility.

Mr. Knuchel is responsible for emergency operations with partner airlines and is the leader of the Swiss International Air Lines crisis team. He directs emergency training for staff worldwide, and he is responsible for interfacing with national and international organizations, including the Swiss foreign ministry, the Swiss health ministry, and embassies and authorities in various countries.
Eduardo Martinez

Eduardo Martinez is President of the UPS Foundation and UPS Chief Diversity & Inclusion Officer. The UPS Foundation leads the global citizenship programs and initiatives for UPS, and, as President, Dr. Martinez is responsible for the operations and management of its global philanthropic, employee engagement, and corporate relations programs, which invests in more than 4,300 organizations and communities across 170 countries. In addition, Dr. Martinez also serves as the UPS Chief Diversity & Inclusion Officer, with responsibilities for the advancement of diversity and inclusion programs that empower more than 440,000 UPS employees worldwide.

Dr. Martinez served as corporate legal counsel in the UPS Legal Department until 2007, where his practice included commercial transactions, intellectual property, and information technology matters, as well as civil litigation. Prior to assuming the position as President, he served as Director of Philanthropy and Corporate Relations for the UPS Foundation.

Dr. Martinez joined UPS in 1976 as a package handler in UPS's South Florida operation, where he subsequently entered the management ranks in the company's operations and the industrial engineering functions. He later held senior management positions in the areas of Corporate Accounting and Finance, Risk Management, and Acquisitions. In these capacities, he also served UPS's subsidiaries and international region.

In addition to his corporate responsibilities, Dr. Martinez was formerly Chairperson of the World Economic Forum's (WEF) Global Agenda Council on Humanitarian Response. Currently, he serves on the WEF's Managing the Risk and Impact of Future Epidemics Steering Committee. Dr. Martinez also serves on the UN Global Logistics Cluster's Logistics Emergency Team Steering Council and on the executive committees of the United Nations Office for Coordination Humanitarian Affairs (UNOCHA) Connecting Business Initiative and the Global Health Security Agenda's Private Sector Round Table. He recently joined the Global Humanitarian Action Executive Council under the leadership of the UN Secretary-General's Humanitarian Envoy.

Dr. Martinez serves as chair of the Points of Light Corporate Service Council, which is composed of Fortune 500 companies dedicated to the global volunteer movement. He serves as Principal, representing UPS, on the Corporate Board of Advisors for UnidosUS organization as well as Chairperson of the Points of Light Institutes' Corporate Service Council. Dr. Martinez also serves as Advisor to the World Association of Girl Guides and Girl Scouts (WAGGGS) and is a member of the Board of Directors of the International Association for Volunteer Effort (IAVE). He is former co-chair and appointee by the National Academy of Science of its national program, Resilient America. Dr. Martinez serves on the International Leadership Board of UK-based Business in the Community organization, and he serves on the Executive Committee of IMPACT 2030, a business-led coalition to advance the United Nations' Sustainable Development Goals and on the Board of the United Nations public-private sector coalition innovation incubator, Global Humanitarian Lab.

Dr. Martinez holds a bachelor of arts degree in accounting from the University of Miami, Florida, and a juris doctor degree from the Nova Southeastern University Law School. A member of the American Bar Association and the Hispanic National Bar Association, he is also a member of the Florida Bar.
Stephen C. Redd

RADM Stephen C. Redd is the Deputy Director for Public Health Service and Implementation Science at the Centers for Disease Control and Prevention (CDC). Dr. Redd currently oversees the Center for Preparedness and Response; the Center for Global Health; the Center for State, Tribal, Local, and Territorial Support; and the Office of Minority Health and Health Equity. In his deputy director role, he focused on the adoption of implementation science principles at CDC. In collaboration with multiple groups, he is working to understand how public health can most effectively address social determinants of health in various sectors.

Dr. Redd became Director for CDC's Center for Preparedness and Response while CDC responded to the 2014 West Africa Ebola outbreak, when he helped to ensure that congressional stakeholders were kept up-to-date on the evolving outbreak. He worked across the agency to prepare for the possibility of additional Ebola cases in the United States. Since then, he has engaged in the agency's responses to the Zika virus and multiple hurricanes.

Previously, Dr. Redd served as incident commander for the 2009 H1N1 pandemic response, which was the longest activation of CDC's Emergency Operations Center at the time. As the leader of the response, involving more than 3,000 CDC staff, he aided in the effort to vaccinate 81 million people against H1N1 in the United States. Dr. Redd has participated in many disease outbreak investigations and responses, including Legionnaires' disease, strategic development for the control of malaria, and the elimination of measles in the United States.

Dr. Redd is board certified in internal medicine, a Fellow in the American College of Physicians, and a member of the Commissioned Officers Association. He received his baccalaureate degree in history from Princeton University and his medical degree with honors from the Emory University School of Medicine. He trained in medicine at the Johns Hopkins Hospital before completing CDC's two-year Epidemic Intelligence Service training program.

Honored with numerous awards for his work—among them the USPHS Distinguished Service Medal and the Meritorious Service Medal—Dr. Redd is a three-time nominee and winner of CDC's prestigious Charles C. Shepard Science Award for outstanding scientific publication at CDC.
Hasti Taghi

Hasti Taghi serves in a chief of staff capacity at a major media company. She also leads strategic initiatives for the office, including partnerships with the World Economic Forum.

Ms. Taghi has held various roles in hospital administration at Texas Children's Hospital in Houston, Texas. She worked in corporate and executive communications, patient experience, and as the leader of the board member relations program. She began her career as a news reporter working for the CBS affiliate in Idaho Falls, Idaho, and the NBC affiliate in Houston, Texas.

Ms. Taghi has received various accolades for her work in communications and her philanthropic efforts in the community, including Woman of the Year for her fundraising efforts on behalf of the Leukemia and Lymphoma Society, as well as the Ovation Award, honoring Houston's next generation of dynamic young leaders.

Ms. Taghi received her undergraduate degree in journalism from the University of Texas at Austin and her master's degree in global affairs from Rice University. She served on the leadership committee for the Baker Institute for Public Policy Young Professionals Roundtable.
Lavan Thiru

Lavan Thiru joined the Monetary Authority of Singapore in June 2006 and is currently its Chief Representative in the New York Representative Office. He assumed this role in November 2016. Previously, he was the head of the Financial Products and Investment Solutions Division, part of the Financial Markets Development Department of the Monetary Authority of Singapore. In that role, he oversaw the development of Singapore financial markets. He was also responsible for developing initiatives related to infrastructure and trade finance.

Mr. Thiru spent more than a year on secondment to Clifford Capital, a specialist provider of structured finance solutions established with support from the Government of Singapore, to act as a catalyst for companies that have a meaningful presence in Singapore, in support of their investments or exports overseas.

Mr. Thiru started his career in the Ministry of Finance, overseeing budget policy formulation for the various ministries. He then spent 10 years in tax policy formulation both in the Ministry of Finance and the Monetary Authority of Singapore.

Mr. Thiru graduated with an honours degree in business with a specialisation in financial analysis and obtained his MBA (accountancy) from Nanyang Technological University's Nanyang Business School.
Adrian Thomas

Adrian Thomas serves as, Vice President Global Public Health, at Johnson & Johnson. He is responsible for global public health programs and strategy addressing Global Health Security threats and pandemic preparedness including antimicrobial resistance (AMR), Multi Drug Resistant Tuberculosis (MDRTB), Ebola, Dengue Fever, HIV vaccines amongst others.  Adrian is a physician with a special interest in the fields of disease area strategy, public health, market access, and pharmaceutical policy.  He has held numerous roles in market access including Global Head of Market Access for Janssen & Global Head of Access for Medical Devices, for Johnson & Johnson, as well as roles in risk management and drug safety, including Global Head of Benefit Risk Management and Chief Safety Officer for Janssen.

Prior to joining J&J, Adrian held roles in regional medical affairs, drug development and product management for Schering-Plough and Eli Lilly.  He is a clinical pharmacologist and a vascular physician with experience in clinical trials design and methodology.

Adrian is a Fellow of the Royal Australasian College of Physicians and the College of Medial Administrator's.  He received his Bachelor of Medicine and Bachelor of Surgery degrees from the University of Melbourne in Australia.

He is based in New Hope, PA.
Recommendations
Public-private cooperation for pandemic preparedness and response
Download the recommendations (PDF)
A call to action
The next severe pandemic will not only cause great illness and loss of life but could also trigger major cascading economic and societal consequences that could contribute greatly to global impact and suffering. Efforts to prevent such consequences or respond to them as they unfold will require unprecedented levels of collaboration between governments, international organizations, and the private sector. There have been important efforts to engage the private sector in epidemic and outbreak preparedness at the national or regional level.1,2 However, there are major unmet global vulnerabilities and international system challenges posed by pandemics that will require new robust forms of public-private cooperation to address.
The Event 201 pandemic exercise, conducted on October 18, 2019, vividly demonstrated a number of these important gaps in pandemic preparedness as well as some of the elements of the solutions between the public and private sectors that will be needed to fill them. The Johns Hopkins Center for Health Security, World Economic Forum, and Bill & Melinda Gates Foundation jointly propose the following:
Governments, international organizations, and businesses should plan now for how essential corporate capabilities will be utilized during a large-scale pandemic. During a severe pandemic, public sector efforts to control the outbreak are likely to become overwhelmed. But industry assets, if swiftly and appropriately deployed, could help to save lives and reduce economic losses. For instance, companies with operations focused on logistics, social media, or distribution systems will be needed to enable governments' emergency response, risk communications, and medical countermeasure distribution efforts during a pandemic. This includes working together to ensure that strategic commodities are available and accessible for public health response. Contingency planning for a potential operational partnership between government and business will be complex, with many legal and organizational details to be addressed. Governments should work now to identify the most critical areas of need and reach out to industry players with the goal of finalizing agreements in advance of the next large pandemic. The Global Preparedness Monitoring Board would be well positioned to help monitor and contribute to the efforts that governments, international organizations and businesses should take for pandemic preparedness and response.
 
Industry, national governments, and international organizations should work together to enhance internationally held stockpiles of medical countermeasures (MCMs) to enable rapid and equitable distribution during a severe pandemic. The World Health Organization (WHO) currently has an influenza vaccine virtual stockpile, with contracts in place with pharmaceutical companies that have agreed to supply vaccines should WHO request them. As one possible approach, this virtual stockpile model could be expanded to augment WHO's ability to distribute vaccines and therapeutics to countries in the greatest need during a severe pandemic. This should also include any available experimental vaccine stockpiles for any WHO R&D Blueprint pathogens to deploy in a clinical trial during outbreaks in collaboration with CEPI, GAVI, and WHO. Other approaches could involve regional stockpiles or bi- or multinational agreements. During a catastrophic outbreak, countries may be reluctant to part with scarce medical resources. A robust international stockpile could therefore help to ensure that low and middle resource settings receive needed supplies regardless of whether they produce such supplies domestically. Countries with national supplies or domestic manufacturing capabilities should commit to donating some supply/product to this virtual stockpile. Countries should support this effort through the provision of additional funding.
 
Countries, international organizations, and global transportation companies should work together to maintain travel and trade during severe pandemics. Travel and trade are essential to the global economy as well as to national and even local economies, and they should be maintained even in the face of a pandemic. Improved decision-making, coordination, and communications between the public and private sectors, relating to risk, travel advisories, import/export restrictions, and border measures will be needed. The fear and uncertainty experienced during past outbreaks, even those limited to a national or regional level, have sometimes led to unjustified border measures, the closure of customer-facing businesses, import bans, and the cancellation of airline flights and international shipping. A particularly fast-moving and lethal pandemic could therefore result in political decisions to slow or stop movement of people and goods, potentially harming economies already vulnerable in the face of an outbreak. Ministries of Health and other government agencies should work together now with international airlines and global shipping companies to develop realistic response scenarios and start a contingency planning process with the goal of mitigating economic damage by maintaining key travel and trade routes during a large-scale pandemic. Supporting continued trade and travel in such an extreme circumstance may require the provision of enhanced disease control measures and personal protective equipment for transportation workers, government subsidies to support critical trade routes, and potentially liability protection in certain cases. International organizations including WHO, the International Air Transport Association, and the International Civil Aviation Organization should be partners in these preparedness and response efforts.
 
Governments should provide more resources and support for the development and surge manufacturing of vaccines, therapeutics, and diagnostics that will be needed during a severe pandemic. In the event of a severe pandemic, countries may need population-level supplies of safe and effective medical countermeasures, including vaccines, therapeutics, and diagnostics. Therefore, the ability to rapidly develop, manufacture, distribute, and dispense large quantities of MCMs will be needed to contain and control a global outbreak. Countries with enough resources should greatly increase this capability. In coordination with WHO, CEPI, GAVI, and other relevant multilateral and domestic mechanisms, investments should be made in new technologies and industrial approaches, that will allow concomitant distributed manufacturing. This will require addressing legal and regulatory barriers among other issues.
 
Global business should recognize the economic burden of pandemics and fight for stronger preparedness. In addition to investing more in preparing their own companies and industries, business leaders and their shareholders should actively engage with governments and advocate for increased resources for pandemic preparedness. Globally, there has been a lack of attention and investment in preparing for high-impact pandemics, and business is largely not involved in existing efforts. To a significant extent this is due to a lack of awareness of the business risks posed by a pandemic. Tools should be built that help large private sector companies visualize business risks posed by infectious disease and pathways to mitigate risk through public-private cooperation to strengthen preparedness. A severe pandemic would greatly interfere with workforce health, business operations, and the movement of goods and services.3 A catastrophic-level outbreak can also have profound and long-lasting effects on entire industries, the economy, and societies in which business operates. While governments and public health authorities serve as the first line of defense against fast-moving outbreaks, their efforts are chronically under-funded and lack sustained support. Global business leaders should play a far more dynamic role as advocates with a stake in stronger pandemic preparedness.
 
International organizations should prioritize reducing economic impacts of epidemics and pandemics. Much of the economic harm resulting from a pandemic is likely to be due to counterproductive behavior of individuals, companies, and countries. For example, actions that lead to disruption of travel and trade or that change consumer behavior can greatly damage economies. In addition to other response activities, an increase in and reassessment of pandemic financial support will certainly be needed in a severe pandemic as many sectors of society may need financial support during or after a severe pandemic, including healthcare institutions, essential businesses, and national governments Furthermore, the ways in which these existing funds can now be used are limited. The International Health Regulations prioritize both minimizing public health risks and avoiding unnecessary interference with international traffic and trade. But there will also be a need to identify critical nodes of the banking system and global and national economies that are too essential to fail – there are some that are likely to need emergency international financial support as well. The World Bank, the International Monetary Fund, regional development banks, national governments, foundations, and others should explore ways to increase the amount and availability of funds in a pandemic and ensure that they can be flexibly used where needed.
 
Governments and the private sector should assign a greater priority to developing methods to combat mis- and disinformation prior to the next pandemic response. Governments will need to partner with traditional and social media companies to research and develop nimble approaches to countering misinformation. This will require developing the ability to flood media with fast, accurate, and consistent information. Public health authorities should work with private employers and trusted community leaders such as faith leaders, to promulgate factual information to employees and citizens. Trusted, influential private-sector employers should create the capacity to readily and reliably augment public messaging, manage rumors and misinformation, and amplify credible information to support emergency public communications. National public health agencies should work in close collaboration with WHO to create the capability to rapidly develop and release consistent health messages. For their part, media companies should commit to ensuring that authoritative messages are prioritized and that false messages are suppressed including though the use of technology.
Accomplishing the above goals will require collaboration among governments, international organizations and global business. If these recommendations are robustly pursued, major progress can be made to diminish the potential impact and consequences of pandemics. We call on leaders in global business, international organizations, and national governments to launch an ambitious effort to work together to build a world better prepared for a severe pandemic.
---
1 Global Health Security: Epidemics Readiness Accelerator. World Economic Forum. https://www.weforum.org/projects/managing-the-risk-and-impact-of-future-epidemics. Accessed 11/19/19
2 Private Sector Roundtable. Global health Security Agenda. https://ghsagenda.org/home/joining-the-ghsa/psrt/. Accessed 11/19/19
3 Peter Sands. Outbreak readiness and business impact: protecting lives and livelihoods across the global economy. World Economic Forum 2019. https://www.weforum.org/whitepapers/outbreak-readiness-and-business-impact-protecting-lives-and-livelihoods-across-the-global-economy. Accessed 12/5/19
Resources
Fact Sheets
The Center's scholars researched these topics to inform the scenario.
CAPS: The Pathogen and Clinical Syndrome (PDF)
Communication in a pandemic (PDF)
Event 201 Model (PDF)
Finance in a pandemic (PDF)
Medical countermeasures (PDF)
The Event 201 scenario
Event 201 simulates an outbreak of a novel zoonotic coronavirus transmitted from bats to pigs to people that eventually becomes efficiently transmissible from person to person, leading to a severe pandemic. The pathogen and the disease it causes are modeled largely on SARS, but it is more transmissible in the community setting by people with mild symptoms.
The disease starts in pig farms in Brazil, quietly and slowly at first, but then it starts to spread more rapidly in healthcare settings. When it starts to spread efficiently from person to person in the low-income, densely packed neighborhoods of some of the megacities in South America, the epidemic explodes. It is first exported by air travel to Portugal, the United States, and China and then to many other countries. Although at first some countries are able to control it, it continues to spread and be reintroduced, and eventually no country can maintain control.
There is no possibility of a vaccine being available in the first year. There is a fictional antiviral drug that can help the sick but not significantly limit spread of the disease.
Since the whole human population is susceptible, during the initial months of the pandemic, the cumulative number of cases increases exponentially, doubling every week. And as the cases and deaths accumulate, the economic and societal consequences become increasingly severe.
The scenario ends at the 18-month point, with 65 million deaths. The pandemic is beginning to slow due to the decreasing number of susceptible people. The pandemic will continue at some rate until there is an effective vaccine or until 80-90 % of the global population has been exposed. From that point on, it is likely to be an endemic childhood disease.
Videos
Highlights Reel
Selected moments from the October 18th Event 201 Exercise (Length: ~12 minutes)
Videos of Event 201
These five segments include discussions among high-level leaders of global businesses, governments, policy and public health. (Length ~3 hours)
Segment 1 - Intro and Medical Countermeasures (MCM) Discussion
Segment 2 - Trade & Travel Discussion
Segment 3 - Finance Discussion
Segment 4 - Communications Discussion
and Epilogue Video
Segment 5 - Hotwash and Conclusion
Photos
View photos from the Event 201 pandemic tabletop exercise held on October 18, 2019, in New York, NY.
Event 201 Media

Thank you to members of the press that attended Event 201. There are opportunities for those that missed it to view a video of the exercise online now, and to use materials posted on this page to share the insights of leaders of business and industry, governments, and global health about why pandemic preparedness collaboration among private businesses with the public sector is so critically important at this time.

Recommendations issued by the Johns Hopkins Center for Health Security in collaboration with the World Economic Forum and the Bill & Melinda Gates Foundation are available here.

Press requests may be directed to centerhealthsecurity@jhu.edu.

 

Videos

Full-length ~3-hour video with audio

Condensed version ~12-minutes

 

Media Coverage

Bloomberg
Event 201: Preparing for a Pandemic (Audio)

Global Biodefense
Joint Call to Action on Pandemic Preparedness and Response: 7 Recommendations for Readiness

Homeland Preparedness News
Public-private cooperation must improve to fill gaps in pandemic preparation, response

Axios
WHO warns of 13 emerging health threats including possible pandemics

Avian Flu Diary
JHCHS, The Gates Foundation & WEF: 7 Pandemic Preparedness Recommendations In A Joint Call to Action

Forbes
Wuhan Coronavirus Outbreak Shows The Importance Of Sound Science, Sleuthing, And Cooperation

Forbes
How Prepared Are We For The Next Pandemic? Not Very, Experts Show

Contagion Live
Johns Hopkins Initiative Hopes to Better Prepare for Pandemics: Public Health Watch

The Guardian (Nigeria)
Preparing private sector for next pandemic

Healthy Living Environment
Event 201, hosted by the Johns Hopkins Center for Health Security, envisions a fast-spreading coronavirus with a devastating impact

Santa Fe New Mexican
Preparation for epidemics lacking

Freethink
The Next Pandemic Is Out There. Is the Private Sector Ready?

Hub
Pandemic simulation exercise spotlights massive preparedness gap

Bloomberg Best: Bloomberg Radio Network Show
Preparing for the next pandemic (audio ~8 minutes, Event 201 coverage starts at 21:30)

The Telegraph
Disease X dummy run: World health experts prepare for a deadly pandemic and its fallout

Avian Flu Diary
The JHCHS #Event201 (Fictional) CAPS Pandemic Scenario

Gizmodo
We're Not Ready for the Next Pandemic

STAT morning rounds
Johns Hopkins hosts simulated pandemic

Modern Diplomacy
Live Simulation Exercise to Prepare Public and Private Leaders for Pandemic Response

Avian Flu Diary
Johns Hopkins Pandemic Table Top Exercise (EVENT 201) Live Streamed Tomorrow

BBC Radio 5 Live "Up All Night"

 

Center News

January 17, 2020 - The Johns Hopkins Center for Health Security, World Economic Forum, and Bill & Melinda Gates Foundation Call for Public-Private Cooperation for Pandemic Preparedness and Response
Organizations release 7 recommendations in a joint call to action

October 15, 2019 - Players for Event 201, a pandemic exercise, include global business leaders and prominent government and public health leaders—livestream open to all

August 21, 2019 - Johns Hopkins Center for Health Security to host Event 201, a global pandemic exercise
Contact
Exercise inquiries
Subject matter questions about Event 201 should be directed via email to Eric Toner, MD, exercise team lead and senior scholar at the Center.
Media inquiries
Members of the media who have questions about Event 201 should email centerhealthsecurity@jhu.edu.
For all inquiries, please email centerhealthsecurity@jhu.edu.