Our People
Sanjana Ravi, PhD, MPH
Senior Scholar, Assistant Scientist
Professional Profile
Dr. Ravi is a Senior Scholar at the Johns Hopkins Center for Health Security and an Assistant Scientist in the Department of Environmental Health and Engineering at the Johns Hopkins Bloomberg School of Public Health. Her primary research interests include infectious disease outbreaks, vaccine policy, health systems strengthening efforts in low- and middle-income settings, and the intersections between health, security, and human rights.
Dr. Ravi's work focuses on understanding and improving health system responses to a range of public health threats. She is involved with many globally focused Center projects examining health system resilience, risk communication and community engagement, and global health security. Between 2014 and 2016, she helped plan several strategic dialogues on biosecurity policy between the United States and partners in India, Indonesia, Malaysia, and Singapore. More recently, she helped develop a checklist to improve health system resilience to infectious disease outbreaks and natural hazards and contributed to the development of the Global Health Security Index, the first comprehensive assessment of health security capacities across 195 countries.
Dr. Ravi's domestically focused work includes analyses of challenges related to the emergency dissemination of novel medical countermeasures, strategies for strengthening healthcare coalitions, and risk communication challenges during public health emergencies. In 2020, Dr. Ravi served as a member of the Working Group on Readying Populations for COVID-19 Vaccine, which issued recommendations for promoting uptake of a SARS-CoV-2 vaccine in the United States. Subsequently, she joined the CommuniHealth (formerly CommuniVax) Coalition to support equitable COVID-19 vaccination and community health-strengthening efforts in the US. Currently, she also supports an effort to identify metrics of holistic recovery from epidemics and pandemics.
In 2022, Dr. Ravi completed a PhD in Health Systems through the Department of International Health at the Johns Hopkins Bloomberg School of Public Health, where her doctoral research examined last-mile challenges in vaccine delivery, post-epidemic routine immunization challenges, and vaccination equity in resource-constrained settings. She was a Fellow in the 2015 class of the Synthetic Biology Leadership Excellence Accelerator Program. In 2013, she received an MPH in infectious disease management, intervention, and community practice from the University of Pittsburgh and served as a Global Impact Fellow with Unite for Sight in Tegucigalpa, Honduras, delivering basic eye care to underserved regions. Ms. Ravi received a BA in biology from Saint Louis University in 2011.
---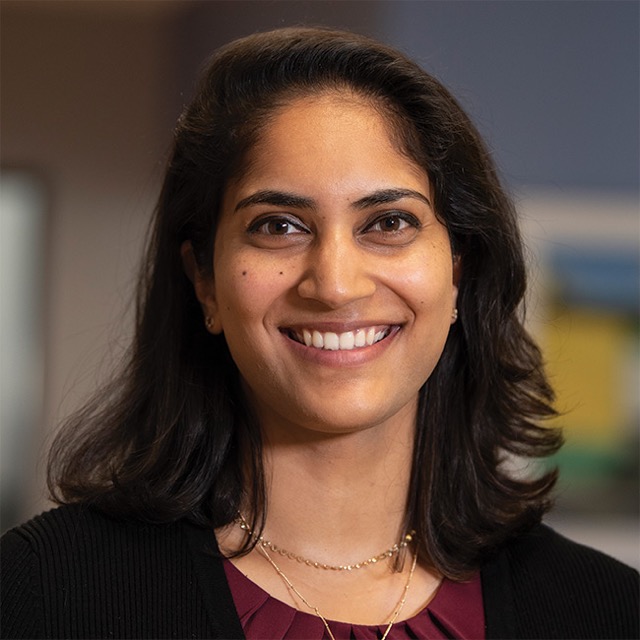 Expertise
Global health policy
Infectious disease management
Public health & healthcare preparedness