Our People
Benjamin Wakefield, MSc
Senior Analyst, Research Associate
Professional Profile
Mr. Wakefield is a Senior Analyst at the Johns Hopkins Center for Health Security and a Research Associate at the Johns Hopkins Bloomberg School of Public Health. His primary research interests include biosecurity, health emergency preparedness and response, civil-military relations, the biological and chemical aspects of CBRN non-proliferation, and preparedness and response to deliberate events.
Mr. Wakefield's work at the Center focuses on international biological security issues and understanding, developing, and improving health emergency preparedness for natural, accidental, and deliberate events. This includes working with the World Health Organization (WHO) and other partners to develop and implement best practice for civil-military collaboration as part of health emergency preparedness, as well as newly developing work related to deliberate biological events.
Prior to joining the Center, Mr. Wakefield spent five years at the Royal Institute of International Affairs (Chatham House) in London, United Kingdom, where he was a Research Fellow in the Global Health Programme. His work at Chatham House was at the intersection of public health and national security and focused on biosecurity and health security. This involved working closely with policymakers and practitioners to bridge the gap between research, policy, and practice. He has experience working in Nigeria and Ghana and has worked directly with the WHO, the World Organisation for Animal Health (WOAH), the Africa Centres for Disease Control (Africa CDC), the Global Partnership against the Spread of Weapons and Materials of Mass Destruction (GP), and several other governmental and nongovernmental health and security actors across Nigeria, Ghana, Sierra Leone, Canada, the US, the UK, and others.
Mr. Wakefield co-authored the Chatham House Sustainable Laboratories Prior Assessment Tool as part of a long-term biosecurity project on improving the sustainability of laboratories in low-resource settings and worked with the GP and UK Government Foreign, Commonwealth and Development Office at Wilton Park on mitigating deliberate biological threats. Mr. Wakefield also ran awareness-raising courses on biological threats and bioterrorism in Morocco, lectured on biological threats and health emergencies in the Chatham House Summer School, and contributed to the ongoing revision of the 2004 Public Health Response to Biological and Chemical Weapons: WHO Guidance.
Mr. Wakefield was an Emerging Leader in Biosecurity (ELBI) Fellow at Johns Hopkins University Center for Health Security in 2020 and 2021, a 2020 OSCE-UNODA Peace and Security Scholar, and an associate member of the Global Violence Prevention special interest group at the Faculty of Public Health, UK. He has a multidisciplinary background in international relations and holds an MSc in security studies from the Department of Political Science, School of Public Policy, at University College, London. His thesis focused on the indirect relationship between infectious disease and civil conflict, analyzing how infectious disease outbreaks impact the social, economic, and political drivers of conflict. He also holds a BA (Hons) in international relations from Loughborough University and a Diploma of international studies from the University of Technology, Sydney.
Mr. Wakefield is primarily based in London, UK, but spends time in the US in Baltimore, MD, and Washington, DC.
 
---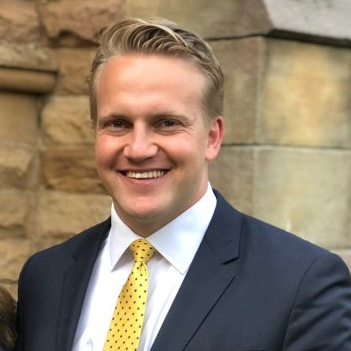 Expertise
Biosecurity
Health emergency preparedness and response
Civil-military relations
The biological and chemical aspects of CBRN non-proliferation
Preparedness and response to deliberate events