Center for Health Security director Dr. Tom Inglesby testifies at US House of Representatives Committee on Homeland Security on COVID-19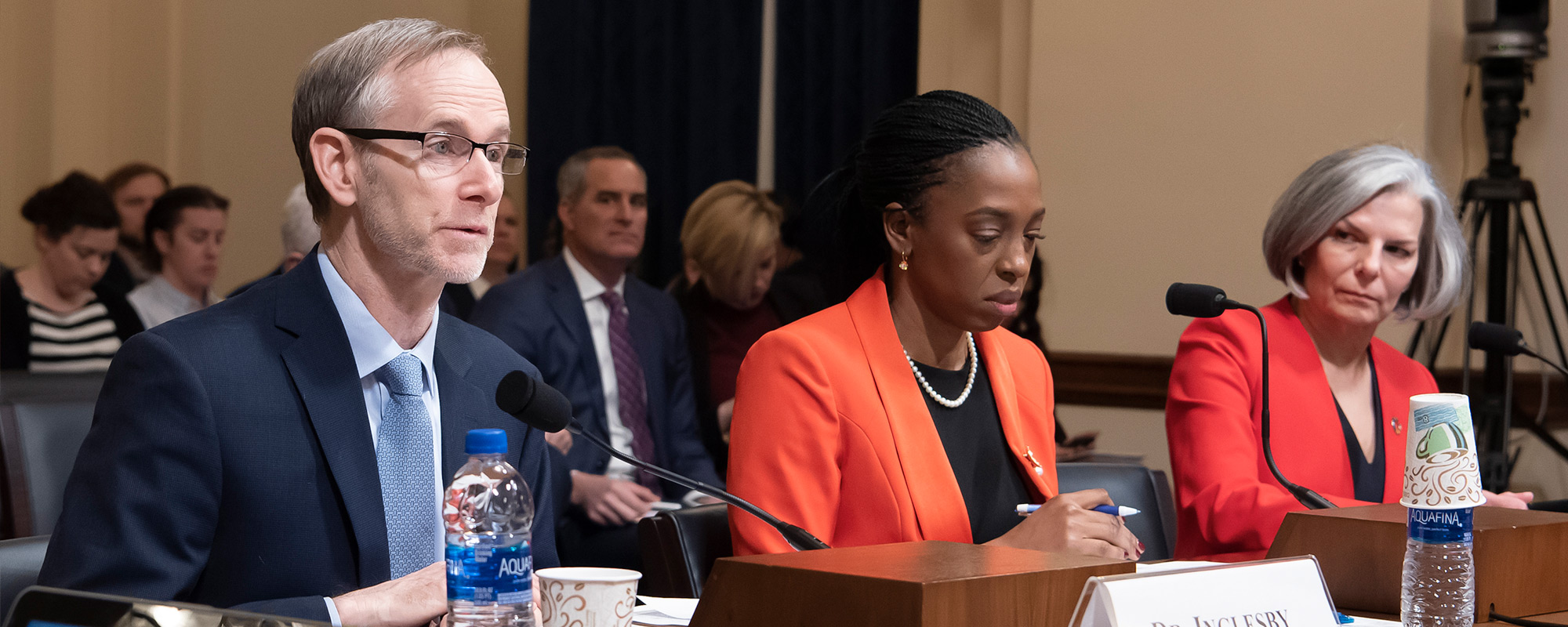 On March 4, 2020, Dr. Tom Inglesby, director at the Johns Hopkins Center for Health Security and professor in the Department of Environmental Health and Engineering and the Department of Epidemiology at the Johns Hopkins Bloomberg School of Public Health, provided testimony at an open congressional hearing on COVID-19.
The hearing, Confronting the Coronavirus: Perspectives on the Response to a Pandemic Threat, was convened by the United States House of Representatives Committee on Homeland Security.
Dr. Inglesby's testimony provided an update on the current outbreak and the US government's response efforts to date. Dr. Inglesby provided recommendations on what should be the top priorities of the US government.
Response priority recommendations include:
Healthcare systems should be planning to provide care for large numbers of critically ill patients. Healthcare institutions will need very strong infection control strategies and responses.
The manufacturers that make personal protective equipment should be assured by the federal government that they will be compensated for increasing their output.
Public health professionals will need to work with political leaders to decide whether and under what conditions social distancing plans should be put in place.
Large-scale testing will ultimately require clinical diagnostics companies to develop testing in the way that they have done for high-throughput testing for other diseases. The federal government should make commitments to these companies that will ensure their development and manufacturing work will be fully compensated.
Vaccine will need to be made on a large scale in a short period of time, and the developers of the successful vaccine(s) will be under enormous pressure to share it around the world.
As with vaccines, the federal government should be strongly supporting the development and testing of a full range of candidate therapies, and it should be planning for the rapid and mass production of these therapies.
Given the quickly changing and complex daily developments around COVID-19, it is important for the federal government to speak with a consistent voice. The federal government should daily provide a briefing to describe what is new, describe what new uncertainties or problems have developed, and explain what the federal government is doing in response.
"The United States has many tools at its disposal to slow and reduce the overall impact of COVID-19. What is needed now is to bring our substantial resources and expertise to bear quickly and decisively," explains Dr. Inglesby.
Read the full testimony. (PDF)